Merrian Styles Author Profile
Author, Executive coach, and Public Speaker
Merrian started her career as an article clerk in North Sydney, before setting out on an intrepid journey of work that took her to all parts of the globe. Travel is a great teacher. Merrian is an author, executive coach, and public speaker.
As an executive coach, she has more than two decades of experience in the corporate world, her presentations and inspirational workshops draw on a colourful life packed with great stories, each story brings with it a valuable lesson.
During her 20-year professional career, Merrian has held the position of company director at several major companies, including Advanced Techtonics Pty Ltd, DFSS, Specialist Drilling Fluids Services, and Bespoke Enterprises. Some of the companies she has worked with include Chevron, Woodside, Exxon Mobile, ENI, Shell Inpex MI, HOEC, and Baker Hughes International.
She lists building a mobile mud plant for Chevron's Barrow Island Exploration project as her biggest achievement. Merrian took an engineer's design for the mobile plant to Singapore and Vietnam and built 12 x 40 foot containers that linked together with couplings to create a portable mobile plant for the drilling section of the project. Her work earned her the nickname "Tank Lady." At the end of the project, she sold the plant to Baker Hughes International for a substantial profit.
A graduate of Oxford Brookes University as well as the University of Western Australia. She also holds certificates in Acupressure, Tai Chi, and Pa Kua Tai Chee Chuan and Advanced Open Water Diver.
Merrian's professional and social associations include the Overseas Women's Club of Madras, the Maadi British Association of Cairo, Friends of the Street Children of Cairo, Friends of Forrest Park, and the Berrimah Riding Club. Her other interests include scuba diving, open-water diving, as well as salsa and bachata dancing. She is also a mentor for the Just Start program which teaches high school students how to start their own business.
She has lived, travelled, and worked throughout the UK, Israel, Greece, Singapore, Malaysia, Thailand, Saudi Arabia, Pakistan, Indonesia, Vietnam, Philippines, India, Egypt, the United States, Bermuda, Kenya, Bahrain, Dubai, Abu Dhabi, United Arab Emirates, Tibet, Nepal, Jordan, New Zealand, France, Belgium, Germany, Netherlands, Italy, Spain, Portugal, Poland, Czech Republic, Austria, Hungry, and Monaco.
Merrian Styles is the author of "Taking Off" and lives in Western Australia.
For a Media Kit or more information about speaker topics or for an appointment please email
info@merrianstyles.com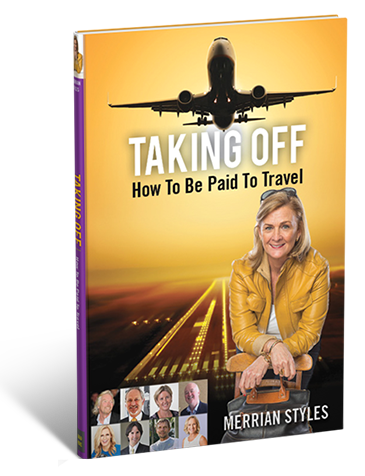 Taking Off, How To Be Paid To Travel
In this book you will learn:
What it takes to be paid to travel
Strategies from the Greats, how they did it, how I did it, and how you can too
The essential keys to successful living and working overseas
How intuition, insight, and self-evaluation contribute to your success
How to feel on top of the world regardless of where you are living
The critical top 10 tips for your safety and survival while travelling abroad
The everlasting benefits and rewards of taking that leap into the unknown
Merrian Styles is known as the Expat Expert.
Order Online